Posts for tag: veneers
By Total Dental Care
September 26, 2017
Want a more beautiful smile?
Your Pekin, IL, dentists Dr. Stephen Dickey, have a great solution that's both cost effective and time saving. If you're interested in finding out more about veneers and how they can help you, then you've come to the right place!
Who needs veneers?
Think of veneers as a resurfacing process. Your Pekin doctor eliminates the flaws ruining your smile. Here are some examples of what veneers can cover:
Dents, grooves, cracks and fractures found on the surface of your teeth that may have been caused by injury, for example.
Slight gaps, overcrowdedness, and crooked and misshaped teeth can be fixed. These issues can simply be hereditary, but cause issues with bite and chewing function.
Discoloration and stains can be removed to give you a brighter smile. Discoloration could be due to age or other factors like smoking or drinking tea and coffee.
What's the process like?
Veneers are porcelain shells that are installed to the surface of your teeth. They have color stability, which means they are resistant to staining.
This is what the process is like:
The dentist will examine your teeth and make sure you have no severe issues, like cavities, that may need to be treated first. Then they will assess whether veneers are right for you.
If you're a good fit, the doctor will remove some enamel off the surface of your teeth. This is a permanent procedure, so make sure veneers are something you are comfortable with. The enamel is removed so the veneers align properly with the rest of your natural teeth or other veneers that will be installed as well.
How to care for veneers?
Porcelain veneers are strong, but it's important to take proper care of them. Brushing and flossing are essential and don't skip your bi-yearly exam with your doctor.
Veneers are a great way to improve the appearance of your smile, so call your Pekin, IL, dentist today!
By Total Dental Care
December 11, 2016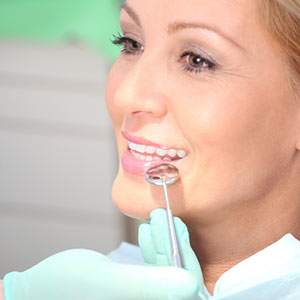 With its life-like color and texture, dental porcelain can restore a smile marred by decayed or damaged teeth. This durable ceramic material not only matches the varieties of individual tooth colors and hues, its translucence mimics the appearance of natural teeth. But perhaps its greatest benefit is its adaptability for use in a number of different applications, particularly veneers and crowns.
Veneers are thin layers of dental porcelain laminated together and permanently bonded to cover the visible outer side of a tooth to improve its appearance. Crowns, on the other hand, are "caps" of dental porcelain designed to completely cover a defective tooth.
Veneers and crowns share a number of similarities. Both can alter the color and shape of teeth, although crowns are used when more extensive tooth structure has been damaged. They're also "irreversible," meaning the tooth must be altered in such a way that it will always require a veneer or crown, though on some occasions a veneer can require no removal of tooth structure and can be reversible.
They do, however, have some differences as to the type of situation they address. Veneers are generally used where the affected teeth have a poor appearance (chipped, malformed or stained, for example) but are still structurally healthy. And although they do generally require some removal of tooth enamel to accommodate them (to minimize a "bulky" appearance), the reduction is much less than for a crown.
Crowns, on the other hand, restore teeth that have lost significant structure from disease, injury, stress-related grinding habits or the wearing effects of aging. Since they must contain enough mass to stand up to the normal biting forces a tooth must endure, a significant amount of the original tooth structure must be removed to accommodate them.
Which application we use will depend upon a thorough examination of your teeth. Once we've determined their condition and what you need, we can then recommend the best application for your situation. But regardless of whether we install a veneer or crown, using dental porcelain can help achieve an end result that's truly life-changing — a new, younger-looking smile.
If you would like more information on dental porcelain restorations, please contact us or schedule an appointment for a consultation. You can also learn more about this topic by reading the Dear Doctor magazine article "Porcelain Crowns & Veneers."
By Total Dental Care
October 20, 2014
It is not often that you find a celebrity who is willing to speak candidly about any cosmetic or restorative dentistry that he or she has had. Instead, most prefer that their fans just assume that their dazzling "Hollywood" smile is something that just happened naturally. However, that is not the case with Kathy Ireland, the former Sports Illustrated cover girl, current business mogul and founder of kathy ireland Worldwide, a billion dollar marketing and design firm. In a Dear Doctor magazine cover story she talks openly about her dental experiences, injuries and treatment so that people worldwide can understand what may be possible for them.
For Kathy, it happened several years ago when she was playing with her husband and children in their driveway. Kathy decided that she would stand in her children's wagon and surf across their driveway. Instead, she ended up "face-planting," as she describes it, in a freak accident that left her with a broken nose, split forehead and several broken teeth. She recalls that it sounded like a watermelon had smashed. Luckily, her husband, an emergency room physician, was on hand to care for her. Kathy is just as thankful to her cosmetic and restorative dentist who restored her trademark smile with some veneers and a dental implant. Today, the only reminder she has from this accident is a small scar on her nose that she covers with a little makeup.
You would think that this accident would be enough trauma for one person; however, Kathy describes an earlier accident where she knocked out a tooth and then later knocked it loose again. Kathy also wanted to take the time to let readers know that her dental implant experiences were "pretty easy." She did recall, "hearing all the sounds while all of it was going on" and then added, "but I have to tell you, that after being a mom and having kids, going to the dentist...is like going to the spa!" She said that she has even fallen asleep in the dental chair.
To learn more about Kathy Ireland, continue reading the Dear Doctor magazine article "Kathy Ireland." Or if you think cosmetic or restorative dentistry is right for you, contact us today to schedule an appointment to discuss your specific goals.