Posts for: May, 2014
By Total Dental Care
May 22, 2014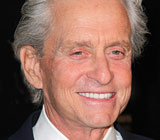 Actor Michael Douglas shocked TV audiences across the country when he announced on the David Letterman Show in 2010 that he has stage IV oral cancer. Fortunately, the cancer had not spread and his radiation and chemotherapy treatments were successful. This year, Douglas teamed up with the Oral Cancer Foundation to warn others about the dangers of the disease and the importance of early detection. In particular, he wants younger people to know that even if they don't smoke and drink a lot, as he admitted to Letterman that he did, they are still at risk.
As Douglas states in a PSA he made with the foundation, "the fastest growing segment of the people developing oral cancers are young, non smokers." That's due to a strain of the Human Papilloma Virus known as HPV16 that can be transmitted through oral sex. So it's important to avoid risky sexual behaviors and to be screened regularly for this devastating disease that claims one life every hour in the U.S., according to the Oral Cancer Foundation.
An oral cancer screening is a simple visual and tactile exam done right here at the dental office. We will feel your neck for lumps and inspect your lips and all inside surfaces of the mouth, including the back of your throat, for any suspicious signs. If any are found, a biopsy (laboratory analysis of a tissue sample) can be ordered.
Most oral cancers are "squamous" (small scale-shaped) cell carcinomas that occur in the lining of the mouth and are often preceded by recognizable changes (lesions) of the oral membranes. White or red patches begin to form in the pre-cancerous stage, and as the cancer develops, a non-healing ulcer may appear. If you notice any such changes in your mouth, please let us know.
Michael Douglas ends his PSA with the following plea: "So please, the next time you visit your dentist or your medical doctor, ask for this simple screening. Finding oral cancer in its earliest stages may save your life." We agree, which is why we always perform this screening during your regular dental check-up. If it's been a while since your last appointment, please come in and see us.
If you would like more information about oral cancer, please contact us or schedule an appointment for a consultation. You can learn more about the disease in the Dear Doctor magazine article "Oral Cancer."
By Total Dental Care
May 07, 2014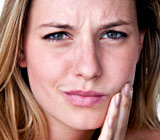 You have probably heard a lot of people talk about TMJ disorders, but do you know what it all means? How do you know if you are suffering from a TMJ disorder?
Below are answers to some common questions about TMJ disorders.
What is a TMJ disorder?
First, we should explain that TMJ actually refers to the Temporomandibular Joint, which is the formal name for your jaw joint(s). TMD stands for Temporomandibular Disorders, which is the correct name for the muscle and/or joint symptoms that commonly arise when there is TMJ pain and dysfunction. You may have heard people refer to the actual disorder as TMJ, but this name is incorrect.
When I experience TMJ pain, what exactly is happening?
Let's first understand all of the parts that play a role in your pain. The temporomandibular joints connect your mandible (lower jaw) to your skull on both the left and right sides, which makes the lower jaw the only bone in the body with completely symmetrical joints at both ends. There is a ball-and-socket relationship between your jaw and your skull on both sides, but the unique part is the presence of a cushioning disk between the two surfaces in each joint. Each TMJ has a disk between the ball (condyle) and socket (fossa), and this sometimes ends up being an especially important area when trouble arises.
So, how do I know if I have TMD?
You can never be absolutely sure, but here are some symptoms you should be sure to share with us during your examination:
Clicking. You may experience a clicking sound in the jaw, usually due to a shift in the position of the disk inside the joint. However, if you do not have pain or limited jaw function, this symptom may be insignificant.
Muscle Pain. The next symptom is jaw muscle pain, usually in the cheeks or temples. If the muscle is sore or stiff in the morning, this pain is usually related to clenching or grinding in your sleep. However, there are more complex muscle pains that can spread to your head and neck.
TMJ Pain. This third symptom refers to pain actually inside one or both of your jaw joints, technically described as arthritis of the TMJ.
If diagnosed, what can I expect from treatment?
We will first need to assess the damage to your TMJ, and from there we will recommend a course of treatment to relieve your pain. Treatment may range from hot or cold compresses and anti-inflammatory medications to physical therapy or a bite guard. We may also advise you to do jaw exercises at home. In general, we will do our best to treat your issue without orthodontic treatment or surgery.
If you would like more information about TMD, please contact us or schedule an appointment for a consultation. You can also learn more by reading the Dear Doctor magazine article "Seeking Relief from TMD."