Posts for: February, 2016
By Total Dental Care
February 08, 2016
As the popularity of cosmetic dentistry rises, more and more procedures are available. From teeth whitening to gum surgery, cosmetic
procedures vary wildly. However, with all these options, choosing the best procedure for you may prove to be difficult. It is easy with help from your Pekin, IL dentists to you determine which procedures will benefit you.
Bonding: Cosmetic bonding involves correcting small imperfections with composite resin materials. These imperfections most often include chips or small gaps.
Braces: Orthodontic treatment serves to straighten the teeth and correct issues with bite, such as overbite, underbite or crossbite. Braces also help bring together gaps and even out overcrowding.
Bridges: Bridges replace a missing tooth via a dental appliance connected to two natural teeth on either side of the gap. The bridge connects to the teeth using either metal clasps or dental crowns.
Crowns:Dental crowns stabilize and strengthen a damaged or weakened tooth. The tooth-shaped, cap-like crown fits over a natural tooth.
Contouring/Reshaping: These procedures repair uneven, slightly chipped, or misaligned teeth by reshaping the tooth to improve appearance.
Dental Implants: If you are missing one or more teeth, dental implants surgically implanted into the bone below a missing tooth replace the root. A dental crown attached to the implant replaces a tooth, providing a permanent replacement.
Periodontal: Dentists use periodontal procedures to reverse gum disease, even out gum lines and repair exposed roots.
Teeth whitening: One of the most popular cosmetic dentistry treatments, teeth whitening uses chemical reactions between the whitening agents and your teeth's stains to provide a whiter appearance. Many patients schedule whitening sessions once or twice a year.
Veneers: Veneers are very thin shells of porcelain which fit over the front of the teeth. Veneers repair a myriad of abnormalities in the teeth, including cracks, chips, overlaps, gaps, staining, yellowing and misaligned teeth.
For more information on cosmetic dentistry procedures, please contact Dr. Stephen E. Dickey at Total Dental Care in Pekin, IL. Call (309) 347-7055 to schedule your appointment today!
By Total Dental Care
February 06, 2016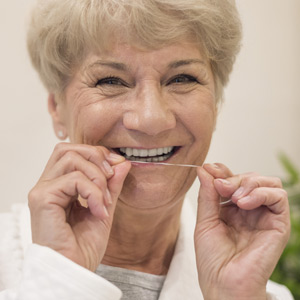 Unlike the natural tooth it replaces, a dental implant is impervious to decay. But don't think that means you can relax your oral hygiene habits — even though the implant itself can't be infected, the surrounding gum tissues and bone can. And if they're not properly cared for you might eventually lose the implant.
In fact, implants may be more susceptible to problems from impacted food that becomes wedged between the gums and teeth than their natural counterparts. Natural teeth are connected to the jaw by way of a resilient, elastic tissue known as the periodontal ligament: the ligament resides in the space between the tooth root and the bone and attaches to both through tiny fibers. The bone and ligament are protected by an attachment of gum tissue that covers all of the surrounding bone and attaches to the root surface. The outer gum tissue surface is covered by a protein called keratin that makes it resistant to wear.
On the other hand, these periodontal ligament fibers don't exist when implants are present as the implant is fastened directly to the bone. Because it doesn't have this ligament attachment, and the gum tissues around can't attach to the implant as with natural teeth, it may be more vulnerable to bacteria or trauma caused by food impaction. So, cleaning and caring for dental implants is just as important, if not more so than with natural teeth.
If the gums around an implant become infected and inflamed it could lead to peri-implantitis, a condition that can destroy the bone attachment between the implant and the bone. In other words, the loss of bone support can weaken the integration of the implant with the bone. As more and more attachment is lost, the implant can loosen and eventually be lost.
The best way to avoid this is with consistent daily hygiene and regular dental checkups. And, if you notice any signs of swelling or redness of the gums around an implant, contact us as soon as possible. The sooner we begin treatment to alleviate the infection, the less danger there will be of losing your implant.
If you would like more information on how to care for dental implants and other restorations, please contact us or schedule an appointment for a consultation. You can also learn more about this topic by reading the Dear Doctor magazine article "Infections around Implants."