Posts for tag: dental implant
By Total Dental Care
October 31, 2020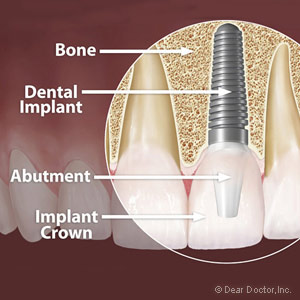 What happens when you lose a tooth? In the short-run, it can certainly undermine your appearance and ability to efficiently chew and digest food. But a chain of events could also be set in motion that may cause the most harm to your appearance and health—and it all has to do with bone loss.
Our bones aren't just rigid structures providing a frame for our bodies. They're living tissue with other purposes like producing blood cells and regulating the endocrine system. Bone tissue is constantly replenishing itself as older cells die and newer ones take their place.
In the jawbone, the pressure generated by the teeth while biting and chewing travels through the roots to stimulate the growth of new bone. If a tooth goes missing, however, the bone around the tooth also loses this growth stimulus.
This can cause normal bone growth to slow so that dying bone cells aren't sufficiently replaced. The bone may then diminish at an alarming rate—a decrease in width of about 25% in the first year after a tooth loss and several millimeters in height after only a few years.
This bone loss can continue to advance, especially if multiple teeth are lost, until the jaw structure as a whole loses significant height. The bite may then collapse, forcing the front teeth to push forward. In this state, a person may not be able to adequately bite or chew food. It can also damage their appearance—their smile suffers, of course, but their entire face may also appear shrunken.
You may be able to avoid this scenario if you replace missing teeth with dental implants. In addition to their life-likeness and durability, implants can also stop or slow bone loss. This is because titanium, the principle metal used in an implant, has a strong affinity with bone: Bone cells readily grow and attach to the titanium surface and foster new growth.
But don't wait: Bone loss could eventually extend beyond what an implant can accommodate—you may then need grafting to build up the bone or consider a different type of restoration. So, speak with your dentist as soon as possible about an implant restoration for a lost tooth to help avoid significant bone loss.
If you would like more information on how tooth loss can affect your life, please contact us or schedule an appointment for a consultation. You can also learn more about this topic by reading the Dear Doctor magazine article "The Hidden Consequences of Losing Teeth."
By Total Dental Care
July 03, 2020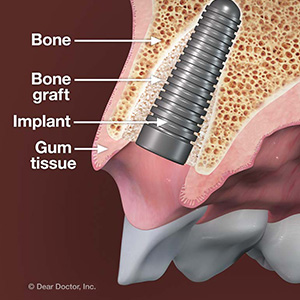 If you've been dealing with a tooth that needs to be removed—or it's already missing—you may be looking to replace it with a dental implant. And it's a great choice: No other restoration can provide the appearance and function of a real tooth like an implant.
You and your smile are ready for it. The question is, though, are your gums and underlying bone ready? These dental structures play a critical role in an implant's stability and eventual appearance. A problem with them may make placing an implant difficult if not impossible.
An implant requires around 2.0 millimeters of bone thickness surrounding the implant surface for adequate support and to minimize the chances of gum recession. But tooth loss often leads to bone loss that can drop its thickness below this threshold. This can make placing an implant problematic.
Fortunately, though, we may be able to address the lack of sufficient bone through bone grafting. By placing grafting material within the empty socket, we create a scaffold for new bone cells to grow upon. Over time this subsequent growth may be enough to maintain an adequate thickness of bone for an implant to be placed.
The gums may also pose a problem if they've shrunk back or receded from their normal positions, as often happens because of gum disease (which may also have precipitated the tooth loss). Again, grafting procedures can help ensure there's adequate gum coverage for the implant. And healthier gums may also help protect the underlying bone from loss.
There are several techniques for placing gum tissue grafts, depending on how much recession has taken place. One procedure in particular is often used in conjunction with implant placement. A small layer of synthetic collagen material or gum tissue referred to as pa dermal apron is included with the implant when its placed. Settling into the bone socket, this apron helps thicken the gum tissues, as well as preserve the underlying bone.
During your preliminary exams, we'll assess your bone and gum health to determine if we should take any steps like these to improve them. It may add some time to the implant process, but the end result will be well worth it.
If you would like more information on dental implants, please contact us or schedule an appointment for a consultation. You can also learn more about this topic by reading the Dear Doctor magazine article "Immediate Dental Implants."
By Total Dental Care
October 20, 2014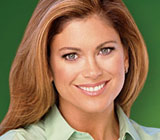 It is not often that you find a celebrity who is willing to speak candidly about any cosmetic or restorative dentistry that he or she has had. Instead, most prefer that their fans just assume that their dazzling "Hollywood" smile is something that just happened naturally. However, that is not the case with Kathy Ireland, the former Sports Illustrated cover girl, current business mogul and founder of kathy ireland Worldwide, a billion dollar marketing and design firm. In a Dear Doctor magazine cover story she talks openly about her dental experiences, injuries and treatment so that people worldwide can understand what may be possible for them.
For Kathy, it happened several years ago when she was playing with her husband and children in their driveway. Kathy decided that she would stand in her children's wagon and surf across their driveway. Instead, she ended up "face-planting," as she describes it, in a freak accident that left her with a broken nose, split forehead and several broken teeth. She recalls that it sounded like a watermelon had smashed. Luckily, her husband, an emergency room physician, was on hand to care for her. Kathy is just as thankful to her cosmetic and restorative dentist who restored her trademark smile with some veneers and a dental implant. Today, the only reminder she has from this accident is a small scar on her nose that she covers with a little makeup.
You would think that this accident would be enough trauma for one person; however, Kathy describes an earlier accident where she knocked out a tooth and then later knocked it loose again. Kathy also wanted to take the time to let readers know that her dental implant experiences were "pretty easy." She did recall, "hearing all the sounds while all of it was going on" and then added, "but I have to tell you, that after being a mom and having kids, going to the dentist...is like going to the spa!" She said that she has even fallen asleep in the dental chair.
To learn more about Kathy Ireland, continue reading the Dear Doctor magazine article "Kathy Ireland." Or if you think cosmetic or restorative dentistry is right for you, contact us today to schedule an appointment to discuss your specific goals.