Posts for tag: gum disease
By Total Dental Care
October 02, 2018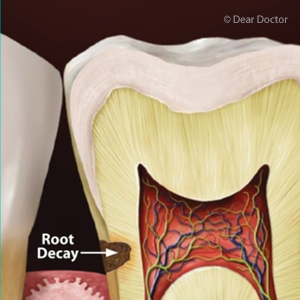 Tooth decay is a highly destructive dental disease, responsible along with periodontal (gum) disease for most adult tooth loss. And we become even more susceptible to it as we get older.
One form of decay that's especially prominent among senior adults is a root cavity. Similar to a cavity in the crown (visible tooth), this form instead occurs at or below the gum line in the roots. They happen mainly because the roots have become exposed due to gum recession, a common consequence of periodontal (gum) disease and/or brushing too hard.
Exposed roots are extremely vulnerable to disease because they don't have the benefit of protective enamel like the tooth crown, covered instead with a thin and less protective mineral-like material called cementum. Normally, that's not a problem because the gums that would normally cover them offer the bulk of the protection. But with the gums receded, the roots must depend on the less-effective cementum for protection against disease.
Although we treat root cavities in a similar way to those in the crown by removing decayed structure and then filling them, there's often an added difficulty in accessing them below the gum line. Because of its location we may need to surgically enter through the gums to reach the cavity. This can increase the effort and expense to treat them.
It's best then to prevent them if at all possible. This means practicing daily brushing and flossing to remove bacterial plaque, the thin, built-up biofilm on teeth most responsible for both tooth decay and gum disease. You should also visit your dentist at least twice a year for professional cleanings and advanced prevention methods like topical fluoride to strengthen any at-risk teeth.
You should also seek immediate treatment at the first sign of gum disease to help prevent gum recession. Even if it has occurred, treating the overall disease could help renew gum attachment. We may also need to support tissue regeneration with grafting surgery.
Root cavities are a serious matter that could lead to tooth loss. But by practicing prevention and getting prompt treatment for any dental disease, you can stop them from destroying your smile.
If you would like more information on diagnosing and treating root cavities, please contact us or schedule an appointment for a consultation. You can also learn more about this topic by reading the Dear Doctor magazine article "Root Cavities: Tooth Decay near the Gum Line Affects Many Older Adults."
By Total Dental Care
May 25, 2016
According to the Center for Disease Control (CDC), about half of American adults suffer from some kind of periodontal disease. In mild
cases of gum disease, conservative treatments such as a simple professional cleaning and flossing more often is enough to reverse the symptoms. However, more severe cases require a special procedure called scaling and root planing, available from your Pekin, IL dentists at Total Dental Care.
How do I know if I have gum disease?
Plaque, the beginning stage of tooth decay, is a colorless, sticky film which covers the teeth. Brushing and flossing regularly help keep plaque off of the teeth. However, the plaque which is not removed hardens into tartar, the next stage of tooth decay. Tartar cannot be removed with brushing or flossing and only a professional dental cleaning can remove it from the teeth. Eventually, the bacteria in plaque and tartar begin to irritate the gums, causing gingivitis, which eventually leads to periodontitis if left untreated. The symptoms of gum disease include:
red, swollen gums
bleeding gums
bad breath with no apparent cause
sensitive and loose teeth
receding gums
separation of the gums from the teeth
pain while chewing
When is scaling and root planing necessary?
This procedure effectively treats moderate to severe tooth decay. Scaling and root planing cleans the teeth's surfaces down the roots below the gum line and between the gums. The procedure takes place using manual scraping tools and, in some cases, an ultrasonic tool which uses high-frequency vibrations to remove plaque, tartar, and bacteria. In particularly stubborn cases, your dentist uses antibiotic fibers placed into the pockets between your gums and teeth. The fibers remain for a week before removal, during which time they help prevent any further infection.
How can I keep my teeth healthy after scaling and root planing?
Keeping plaque and tartar from forming on the teeth is as easy as brushing at least twice a day, flossing at least once, and seeing your dentist for regular examinations and cleanings. Depending on your situation, you may need to see your Pekin dentist more often than the recommended twice a year. Your dentist can help you determine what the best course of treatment is for your condition and lifestyle.
Acquiring a healthy mouth is as easy as asking your dentist about scaling and root planing. For more information, please consult with Dr. Stephen E. Dickey at Total Dental Care in Pekin, IL. Call (309) 347-7055 to schedule your appointment today!