Posts for tag: tooth wear
By Total Dental Care
April 24, 2015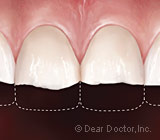 What is tooth wear?
"Tooth wear" refers to a loss of tooth structure that can make your teeth appear shorter or less even than they used to be. Wear starts with loss of outer covering of the teeth, known as enamel. Although enamel is the hardest structure in the human body — even harder than bone — it can wear away over time. If enough enamel is lost, the softer inner tooth structure known as dentin can become exposed, and dentin wears away much faster.
What causes tooth wear?
Tooth wear can be caused by any of the following:
Abrasion: This is caused by a rubbing or scraping of the teeth. The most common source of abrasion is brushing too hard or using a toothbrush that is not soft enough. A removable dental appliance, such as a partial dentures or retainer, can also abrade teeth. Abrasion can also result from habits such as nail-biting and pen-chewing.
Attrition: This is caused by teeth contacting each other. Habits that you might not even be aware of — such as grinding or clenching your teeth — can be quite destructive over time. That's because they can subject teeth to 10 times the normal forces of biting and chewing.
Erosion: Acid in your diet can actually erode (dissolve) the enamel on your teeth. Many sodas, sports drinks and so-called energy drinks are highly acidic; so are certain fruit juices. Eating sugary snacks also raises the acidity level in your mouth. If you can't give up these snacks and drinks entirely, it's best to confine them to mealtimes so your mouth doesn't stay acidic throughout the day. Swishing water in your mouth after eating or drinking acidic or sugary substances can also help prevent erosion.
Abfraction: This refers to the loss of tooth enamel at the "necks" of the teeth (the part right at the gum line). This type of wear is not thoroughly understood, though it is believed to result from excessive biting forces. Abrasion and erosion can contribute to this problem.
How is it treated?
The first step in treating any type of tooth wear is to determine the cause during a simple oral examination right here at the dental office. Once the cause has been identified, we can work together to reduce the stresses on your teeth. For example, you may need a refresher course on gentle, effective brushing techniques; or you might benefit from some changes to your diet. If you have a clenching or grinding habit, we can make you a nightguard that will protect your teeth during sleep or periods of high stress. Once we have dealt with the underlying cause, we can make your teeth look beautiful again by replacing lost tooth structure with bonding, veneers, or crowns. This will also allow your bite to function properly again.
If you have any concerns about tooth wear, please contact us or schedule an appointment for a consultation. You can learn more by reading the Dear Doctor magazine article "How and Why Teeth Wear."
By Total Dental Care
March 25, 2015
Tooth wear, especially on biting surfaces, is a normal part of aging — we all lose some of our tooth enamel as we grow older. Even primary ("baby") teeth may show some wear before they're lost. But there's also excessive, premature tooth wear caused by disease or abnormal biting habits. This type of wear is cause for concern and action before it leads to tooth loss.
Normal tooth wear occurs because of what teeth naturally do — bite and chew. When teeth come together as we eat they generate a modest amount of force: between 13 and 23 pounds. Our teeth also make brief contacts hundreds to thousands times a day. Again, this produces force, though not to the extent we see with biting and chewing: somewhere between 0.75 and 7.5 pounds. These glancing contacts are actually good for dental health because they provide needed stimulation to the teeth and jaws that help the body maintain healthy bone and tooth attachments.
But parafunctional (outside the normal function) habits like teeth grinding or foreign object chewing can greatly increase the generated force, up to 230 pounds. These may result in noticeable symptoms like fractures or loose teeth, but not always — the damage may not be noticeable until much later in the form of excessive tooth wear.
These parafunctional habits aren't the only cause for excessive tooth wear; tooth decay can weaken the tooth structure, making it more susceptible to wear. And, some restorative materials used for fillings may also affect the rate of wear.
Because excessive tooth wear may or may not present with immediate symptoms, it's important to maintain regular dental checkups to monitor the condition of your teeth. Our training and experience helps us identify signs of excessive tooth wear and, depending on the extent of damage, work with you on a treatment plan. You should also keep us informed about oral habits, especially teeth grinding, thumb sucking or foreign object chewing (toys, nails, pencils, etc.).
Your teeth will wear as you grow older. By keeping a close eye on your teeth, we'll help you keep that wear at a normal rate.
If you would like more information on preventing excessive tooth wear, please contact us or schedule an appointment for a consultation. You can also learn more about this topic by reading the Dear Doctor magazine article "When Children Grind Their Teeth."